RAZARTE INTERNATIONAL PROJECT
Vol-38
November 29, 2010

About Veil Perm・・・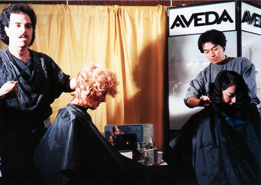 The above is a picture of the demonstration stage in the USA in around 1980.
Melos company's posters in Japan and numerous certificates of world patents.

The work sticking to Natural Dry's hair design remains here.

At that time, I went to the USA to introduce Veil Perm who got world patent of 14 countries

The picture below is a picture of this perm technology when AVEDA introduced it on stage.
Hairdresser's technology is worldwide.

Japanese hairdressers who can not speak good words were convinced that they could interact with American hairdressers with technology.

It is a very exciting challenge to actually show the palm on the stage.Because it is impossible to prepare in advance and there is time limit.


Moreover, it is seriously fighting for having to give accurate results.
I enjoyed ...

It was a stage of memories.
The palm technology introduced at this time is Veil Perm.

Vol.18 is a suggestion of a style and cut technique using the development form of this palm.
On the other hand, the picture below is when Mr. Host of AVEDA's founder visited the venue of the 2009 Chicago show.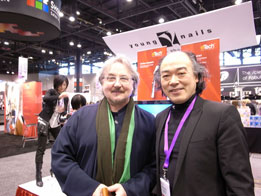 He gave me a high opinion of Veil Perm 30 years ago and introduced it to America.
I am sincerely thankful that he also showed interest in the new cutting technique.
Thirty years ago, AVEDA, a newborn baby, continued to showcase Host's sticking gem, and now
It is becoming the world's leading brand.
It is a begging anniversary to the direction of this brand.
Let's take a look at the technology of Veil Perm Bob and Rezalte.